Ain't nothing in ramblin' – 2007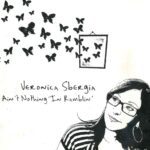 Album d'esordio di Veronica Sbergia che ha posto le fondamenta per la nascita del progetto Red Wine Serenaders e successivi. Fuori stampa – non disponibile sulle piattaforme digitali
---

Veronica & The Red Wine Serenaders – 2009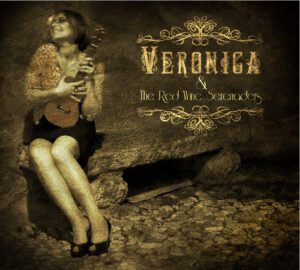 Veronica & The Red Wine Serenaders è un progetto musicale che coinvolge musicisti appassionati di country blues e ragtime, di hokum e jug band music e di tutta la musica popolar-rurale degli anni '20 e '30.
E' proprio dalla molteplicità di queste forme musicali che nasce l'intento di far emergere un variopinto ventaglio di stili e suoni.
Veronica Sbergia gira l'Europa in lungo e in largo con i suoi menestrelli, cercando di mantenere viva questa ricchissima e preziosa tradizione musicale, rispettandone il linguaggio e l'intenzione originari ma adattandone il contesto ai giorni nostri.
Ed è proprio così che nasce "Veronica & The Red Wine Serenaders", album omonimo della band.
L'uso di strumenti rigorosamente acustici e non convenzionali (ukulele, washboard, kazoo, washtub bass per citarne alcuni) e la scelta di guardare all'essenza hanno trovato piena espressione in questo primo lavoro  (etichetta Totally Unnecessary Records/Distribuzione Audioglobe).
Le quattordici tracce che compongono l'album sono orientate a cogliere le influenze di quelle sonorità che caratterizzavano i Medicine Shows nei primi del ʻ900: non solo blues allora, ma anche old time, country e folk, jug band music, musica da ballo o da intrattenimento, ovvero tutti gli stili tipici di questi show itineranti. Si passa attraverso storie "alcoliche" come Bootlegger's Blues (della nota string band Mississippi Sheiks) e You drink too much (degli State Street Swingers) fino ad arrivare a romantiche ballate "swingy" come Me, Myself & I e Lullaby of the leaves.
Il blues più puro è rappresentato da una cover di Kokomo Arnold, Busy Bootin'.
Echi di Hawaii e vaudeville sono rappresentati rispettivamente da I wanna go back to my little grass shack e Lovesick Blues. Non poteva mancare all'appello la jug band music di Mr. Ambulance man e You may leave (but this will bring you back), il jazz di New Orleans (I whish I could shimmy like my sister Kate ) e il gospel rurale (You must come in at the door).
Conclude il disco un doveroso omaggio a Bessie Smith, l'imperatrice del blues, con uno dei suoi classici senza tempo, Good old wagon, proposto in una versione live piano e voce.
Veronica & The Red Wine Serenaders offrono sicuramente il meglio di sé dal vivo, dove riacquistano la loro vera dimensione di "cantastorie" di un'epoca ormai passata.
Fuori stampa – non disponibile sulle piattaforme digitali
---

Old Stories for Modern Times – 2012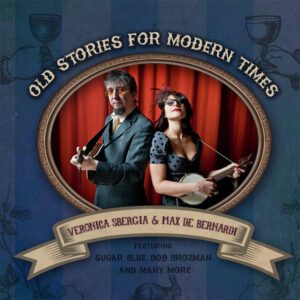 Old Stories for Modern Times è il nuovo disco di Veronica Sbergia e Max De Bernardi, anime insostituibili dei Red Wine Serenaders, ensemble acclamato dalla stampa specializzata nazionale come "la più bella realtà europea in fatto di country-blues, ragtime, hokum e jugband music" (Il Buscadero). L'album, totalmente acustico, inciso tra i mesi di maggio e dicembre 2011, è registrato in mono e mixato su nastro attraverso
consolle analogica. La produzione è volta il più possibile a mantenere le sonorità originali degli strumenti, sfruttando i riverberi naturali dell'ambiente con l'ausilio di microfoni panoramici.
Un disco che è un piccolo eXcursus nella musica popolar-rurale americana dei primi del secolo scorso, dove vengono reinterpretati brani di artisti quali Big Bill Broonzy, Memphis Minnie, Jimmie Rodgers, Sidney Bechet, Lucille Bogan, Bo Carter, Delmore Brothers… i brani sono scelti da un repertorio che va dal 1910 al 1939; e' un vero e proprio invito alla riscoperta o, in alcuni casi, alla scoperta dei personaggi che hanno reso grande questa musica con le loro storie; canzoni che divertono, commuovono, ritmi per ballare o farsi cullare. Tra ragtime, folk, pre-war blues, early jazz e gispygrass ascolterete le voci della fascia più debole della popolazione americana e per questo forse la più autentica ed evocativa. Vi sorprenderete scoprendo quante analogie ci siano tra il passato e il presente. Da qui il titolo "Old Stories for Modern Times", perché la memoria storica è oggi più che mai fondamentale. Voci, chitarre resofoniche, washboard, ukulele, mandolino, armonica, contrabbasso saranno i protagonisti di un viaggio attraverso le atmosfere del vaudeville, dei medicine show, dei bordelli del primo ʻ900 e delle piantagioni di cotone. Una miscela irresistibile di suoni che fa bene alla salute!
Impreziosiscono l'album con la loro arte e bravura due ospiti d'eccezione: Sugar Blue (leggendario armonicista in passato al fianco di Rolling Stones, Bob Dylan, Willie Dixon e Frank Zappa) e il maestro mondiale della chitarra resofonica Bob Brozman.
Veronica e Max si sono esibiti in Francia, Ungheria, Inghilterra, Svizzera, Spagna, Croazia, Austria. Il disco "Veronica & The Red Wine Serenaders" si è aggiudicato nel 2010 il premio per l'originalità Fuori dal Controllo (MEI), assegnato da una giuria composta da Giordano Sangiorgi, Gianni Lucini, Marco Denti, Marino Severini (Gang) e Michele Anelli mentre l'album "D.O.C." è stato votato disco italiano dell'anno 2011 dai lettori di rootshighway. Veronica è stata inoltre la prima artista italiana ad essere invitata al prestigioso Mustique Blues Festival 2012, evento a scopo benefico che si svolge nella splendida cornice dei Caraibi.
"On la croirait presque directement arrivée de l'époque des Bessie Smith et autres grandes légendes du blues, et pourtant Veronica Sbergia n'est ni vieille, ni noire, ni même américaine mais tout bonnement jeune et italienne". Blues sur Seine
"Formidabile combo dal vivo, di quelli che valgono chilometri". Rootshighway "Il più' credibile gruppo che rinverdisce i fasti dei Mississippi Sheiks".Il Blues
1)Viper Mad: Sidney Bechet 1938
2)Press my button (ring my bell): Lil Johnson 1936
3) Ragged but right: Riley Puckett 1934
4) Some of these days: Sophie Tucker 1910
5) Cigarette Blues: Bo Carter 1936
6) Beedle Um Bum: The Hokum Boys 1928
7) They ain't walking: Lucille Bogan 1930
8) Miss The Mississippi and You: Jimmie Rodgers 1932
9) Sweet Papa (Mama's Getting Mad): Aileen Stanley 1920 10) Gonna lay down my old guitar: Delmore Brothers 1933 11) The last kind words: Geeshie Wiley 1930
12) Keep your hands off her: Big Bill Broonzy 1935
13) Long as I can see you smile : Memphis Minnie (1938 – 1939) 14) Kentucky Blues: Little Hat Jones 1930
15) Charming Betsy: "Texas Ragtime" Henry Thomas 1925
Veronica Sbergia: Voce, washboard, kazoo, glockenspiel
Max De Bernardi: Voce, chitarre acustice e resofoniche, mandolino, ukulele
Sugar Blue: armonica n°1 – n°15
Bob Brozman: chitarra slide resofonica n°5 – n°9
Dario Polerani: contrabbasso
Massimo Gatti: Mandolino n°4
Leo Di Giacomo: chitarra acustica n°4
Prodotto da: Max De Bernardi, Veronica Sbergia e Alessandro Zoccarato
Responsabile audio: Andrea Cajelli – La Sauna recording studio Progetto grafico cd e tour: Samuel Re Fotografie: Andrea Raso
Etichetta: Totally Unnecessary Records Distribuzione: Audioglobe
Fuori stampa ma disponibile in digitale
---
The Mexican Dress – 2014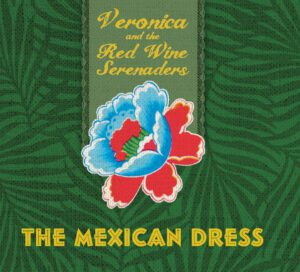 Questo è il quinto album in studio per Max e Veronica, all'epoca ancora sotto il nome di Veronica & The Red Wine Serenaders, il combo italiano che, negli anni, è diventato una realtà consolidata nel panorama musicale europeo nell'ambito del panorama blues, ragtime, folk e country blues.
The Mexican Dress" è stato registrato in parte negli Stati Uniti ai Pacific Studios di Tacoma, Seattle da Mark Simmons, e in parte in Italia, nello studio Suonovivo da Dario Ravelli, responsabile anche del missaggio finale.
Nella tracklist per la prima volta ce ne sono alcune composizioni originali scritte da Max De Bernardi e Veronica Sbergia con l'aiuto di Denny Hall, leader della band americana The Nite Café, oltre a una manciata di pezzi tradizionali riproposti con gusto e originalità, per un totale di quattordici tracce più una "traccia perduta".
Spaziando dallo swing jazz della title track (uno dei brani originali scritti da Max e Veronica), al sound spoglio di The Weed Smoker's Dream (un blues minore precursore del più popolare "Why not you do right" interpretato nel 1936 dagli Harlem Hamphats di Tom Dorsey) e Dope Head Blues (Victoria Spivey). L'atmosfera tipica dei Vaudeville, così cara alla band, riecheggia in Who's that knocking at my door (un classico del repertorio di Hannette Hanshaw) e il divertente Caught us doin' it (Hokum Boys) e torniamo al blues con canzoni come Didn't mean a thing to me, Gloryland (entrambi scritti da Denny Hall) e Banana in your fruit basket (Bo Carter).
Non mancano le dolci ballate dal sapore vintage grazie a Crying Time (a firma Max e Veronica) e Shine on Harvest Moon (una Tin Pan Alley song degli anni '10). Un tributo al gospel rurale è garantito dalla tradizionale Paul and Silas, arrangiata nello stile chitarristico del grande Blind Reverend Gary Davis. Ma l'aspetto nuovo e interessante del repertorio è rappresentato da un pezzo strumentale scritto da Max De Bernardi con il misterioso titolo The Resurrection of the Honey Badger e, ultima ma non meno importante, la ballata Curse the Day in vero stile irlandese – completata con una suggestiva pipa uilleann – interpretata da Denny Hall.
Alla fine, dopo una pausa di 25 secondi, troverai un brano quasi sconosciuto di Papa Charlie Jackson, Loan me your heart, con il suono del banjo a 6 corde e del clarinetto brillantemente suonato da Joel Tepp, che ha lavorato con artisti come Denny 'O Kiefe e Bonnie Raitt – il finale perfetto per "The Mexican Dress".
TRACKLIST:
1. THE MEXICAN DRESS (V. Sbergia/M. De Bernardi)
2. DIDN'T MEAN A THING* (R. D. Hall)
3. WEED SMOKER'S DREAM (J. McCoy)
4. CAUGHT US DOIN' IT* (Thomas A. Dorsey)
5. THE RESURRECTION OF THE HONEY BADGER* (M. De Bernardi) 6. CURSE THE DAY* (R. D. Hall)
7. GLORYLAND* (R. D. Hall)
8. CRYING TIME (V. Sbergia/M. De Bernardi)
9. PAUL AND SILAS* (traditional)
10. DOPE HEAD BLUES* (V. Spivey)
11. WHEN THE MUSIC SOUNDS GOOD (A. Easton)
12. SHINE ON HARVEST MOON (N. Bayes/J. Norworth)
13. BANANA IN YOUR FRUITBASKET* (A. Chatmon)
14. WHO'S THAT KNOCKING AT MY DOOR* (A. Hanshaw) 15. BABY PLEASE LOAN ME YOUR HEART* (C. Jackson)
Veronica Sbergia – lead and backing vocals, washboard, ukulele, kazoo
Max De Bernardi – vocals, acoustic and resophonic guitars, six strings banjo
Dario Polerani – upright bass, backing vocals
Denny Hall a.k.a. "The Mean Judge"- backing vocal, resophonic mandolin, bouzouki, uilleann pipe, snare drum
Joel Tepp – backing vocal, jug, clarinet
Dan Wilson – backing vocal on track 7
Don "Big D" Swensen – backing vocal on track 7
Tom Hume – upright bass on tracks 14, 15
Massimo Gatti – mandolin on tracks 1, 8
Recorded and mixed by Dario Ravelli at SuonoVivo Recording Studio, Bergamo – Italy
* Tracks recorded by Mark Simmons at Pacific Studios, Tacoma (WA) between october and november 2013
Produced by Veronica & The Red Wine Serenaders, additional executive producers Alessandro Zoccarato (blackbluefestival.com) and Stefano Zoppè (campagnola.ch)
Photos by Ivan Vania – Artwork by SaM
Copia fisica ordinabile su Amazon e Audioglobe
---
Live @ Duse – 2015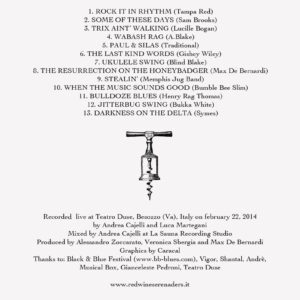 Live at Duse is the first official live album from Max & Veronica, at the time still under the name Veronica & The Red Wine Serenaders. Recorded during a concert at the Teatro Duse in Besozzo (VA) on February 22, 2014, this album is a milestone for the duo. Featuring Dario Polerani on the Upright Bass.
The tracklist includes the following songs:
1- ROCK IT IN RHYTHM
2- SOME OF THESE DAYS
3- TRIX IS NOT WALKING
4- WABASH RAG
5- PAUL & SILAS
6- THE LAST KIND WORDS
7- UKULELE SWING
8- THE RESURRECTION OF THE HONEY BADGER
9- STEALIN'
10- WHEN THE MUSIC SOUNDS GOOD
11- BULLDOZE BLUES
12- JITTERBUG SWING
13- (WHEN IT'S) DARKNESS ON THE DELTA
Recorded by ANDREA CAJELLI and LUCA MARTEGANI.
Fuori stampa – non disponibile sulle piattaforme digitali
---
Max De Bernardi Hurry up, it's late! – 2017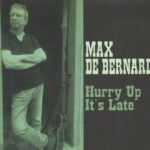 Disco solista di Max De Bernardi, con brani originali e non. Imperdibile per tutti gli amanti della chitarra fingerpicking!
Non è disponibile sulle piattaforme digitali ma è ordinabile al nostro indirizzo email
---
Backyard Favourites – 2018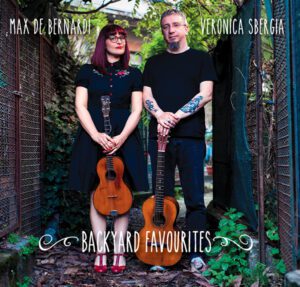 Max De Bernardi ​e ​Veronica Sbergia presentano il loro nuovo progetto musicale dal titolo Backyard Favourites, dove ​country​, ​blues​, ​ragtime e il sapore musicale degli anni '20 e '30 vengono esibiti con gusto, eleganza e divertimento.
Un lavoro di ricerca e arrangiamento di alcuni brani oscuri della tradizione musicale americana che ha portato Max e Veronica alle radici di questa musica usando strumenti acustici come ​ukulele​, ​washboard​, ​chitarre ​acustiche, ​contrabbasso e armonica oltre al sapiente uso delle armonie vocali. E' anche per questo che, nel corso degli anni e dopo centinaia di spettacoli dal vivo e ben ​7 album pubblicati, Max & Veronica sono diventati una realtà consolidata nella scena musicale europea. Insieme, nel 2009, danno vita al progetto Veronica & The Red Wine Serenaders, ensemble acclamato dalla stampa specializzata nazionale come "la più bella realtà europea in fatto di country-blues, ragtime, hokum e jugband music" (Il Buscadero), e si aggiudicano il 1° posto all'European Blues Challenge ed. 2013 e sono stati selezionati al 31 International Blues Challenge, tenutosi a Memphis (TN) nel gennaio 2015.
Per saperne di più:​ ​www.maxandveronica.com
Registrato e mixato tra maggio e giugno 2018, da Roberto Centamore al 10 Decibel Recording Studio, Milano.
Prodotto da Max De Bernardi, Veronica Sbergia e Dario Polerani.
VERONICA SBERGIA: voce, ukulele, washboard, kazoo MAX DE BERNARDI: voce, chitarre acustiche ed elettriche DARIO POLERANI: voce, pianoforte, contrabbasso BEPPE SEMERARO: armonica
ANTHONY CRESCI: armonica
TRACKLIST:
1. THE CANDYMAN
2. WAITING ON YOU
3. IF YOU WANT THE RAINBOW 4. FOGGY RIVER
5. GOOD LIQUOR
6. PRAYING BLUES
7. ROOT HOG OR DIE
8. ROCK ME
9. I GOT MINE
10. SADIE GREEN
11. DELTA BOUND
Copia fisica ordinabile su Amazon e Audioglobe, disponibile in digitale
---
Don't knock!!! – 2020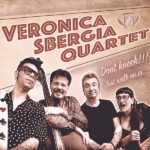 Un mini cd con 7 tracce, registrate in presa diretta in studio a Barcellona, con un ospite d'eccezione: Chino Swingslide!
Disponibile in digitale
---